Trip to Canada and the U.S.
Transcript from my notebook that I wrote during my trip to the U. S. and Canada.
Heading for Detroit from KIX (4 July 2002, 19:00@KIX, Osaka)
The trip starts quietly. The departure has delayed for 1 hour and 30 minutes. Much of my interest has faded away. Waiting for the plane to come at the airport my excitement reached some kind of climax. I am rather too tired to enjoy anything.
My plan is not finally fixed yet, and I have discovered that I don't know
Where Yorkdale is
Where York University is
Where Debconf happens
York University probably has about 3 campus, and I don't know which one of them that I am supposed to go.
Because of the delay in departure, I have less than one hour at the air port, Detroit would be a catastrophe. I need to find out. The girl at KIX counter for North West airlines told me that I will need to consult North West personnel for information but 1h should be enough
My plan on the plane was to enjoy myself alone on the aeroplane but since the guys sitting next to me on the plane are chatting well something makes me nervous, and weary. I should have had more luck. Alone is not the best way to travel.
I have discovered myself seating in a seat close to the emergency exit. I don't have a seat in front of me, and it appears to be very free and relaxing. It's strange.
The people on this plane are, surprisingly, mostly NOT Japanese. There are people from other Asian countries. If I stayed on to this plane I should find myself in New York or somewhere close to it. I am heading towards Toronto, to do something that I really don't know if it's worth the bucks I've thrown into it.
The air seems to be rough, and the plane is trembling. I wonder if I would be speaking enough in the next three days. I need to feel. I intend to enjoy. I wonder if I could "Having been busy" is only an excuse.
4 July 2002, 17:30@Detroit
Plane delayed by 1 hour, and I was almost dead in my mind, but the plane from Detroit to Toronto was delayed by 1 hour.
Maybe I'll need to check my reservation at Holiday Inn just to make sure.
I chatted with this 19 year old Japanese girl all the way through the plane. I don't know her name. I saw it but I forgot. I couldn't read much. 10 hours is much too short for me.
I feel adventure coming and creeping. I'm starting to smell fun
4 July 2002, 17:56@Detroit
I'm having trouble using the phone and I lost 35 cents trying to call the hotel.
I am more than worried about Holiday Inn tonight, and I really wonder if I could.
I want to buy myself a coke, I want to talk with somebody, but I really wonder; I don't get to do either.
I'm already feeling starved for information network
The plane has delayed and I am with nothing to do for the time being. I departed with the 19 year old girl without farewell. I'm worried
So many Japanese people are waiting around here, it daunts me I will have to spend 5 hours here on the way to New York.
Yikes
The US is an interesting place. I'm starting to like the country, and the trip.
4 July 2002, 18:45@Detroit
Seat changed at last minute at the boarding, due to strange error. I wondered if it was cancelled once or not. A seat is a seat and I am okay. I think.
The plane planned at 17:10 is delayed to 18:42. It is looking very interesting.
There was a dupe, and some trouble; the Japanese couple nearby, who can barely speak English has had it. It seems apparently, that many seats are doubly booked. The flight attendant is having a lot of trouble.
The aeroplane itself smells badly of peanuts, and I can see the cause of smell. It's very "unclean".
That couple has had two dupes. Both seats were dupes. Too subtle. Too interesting. The girl tried to follow the flight attendant but the man stopped her. "You can sit where you are, there's plenty of space". The flight attendant commented that the "computer is down". Funny that things break down so easily.
On my freight to Detroit from Kansai Airport, the console and whole plane was restarted "to hopefully fix problems in video and audio subsystems." All lights went down, and after a moment of darkness, everything came back up. That was a very scary moment, and I could smell an imminent danger.
The plane I'm on feels a bit chaotic; and I can feel some subtle strangeness. The people are mostly Japanese, and they are speaking Japanese. Some "American" people are there. I wonder if it is already a holiday season for the Japanese people. A family, with a child: is the child already in Summer Holiday?
Going to Canada for Summer Holiday from Japan feels like a big deal to me.
Carte de declaration douaniere" On m'a donne. C'est en anglais et en francais. Il dit "Francais au verso" et il me raconte le facon. Canada est un pays avec une histoire etrange; que je ne compris pas.
4 July 2002, 23:30@Yorkdale, Toronto, Canada
I can now rest. Peacefully. The room is just massive. Very big. I just have to say this. This room has two double beds in it
I reached Holiday Inn at 22:30. I walked from Yorkdale station through the Yorkdale shopping centre. I went from Lawrence West to Yorkdale on Underground train; it was a very well-done underground station with sign on "North" and "South". Not many people were there on the train. I went to Lawrence West via "58" bus from terminal 2 of Pearson Airport. From terminal 3 to terminal 2, I took a shuttle bus.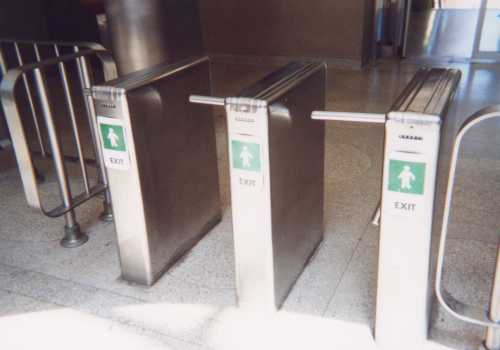 The entry to Yorkdale subway station
The total cost is at $2.25, for riding the bus and the train. I was troubled with the bus because I only had $10 and the bus driver refused to give change. There was a kind lady (of Indian origin? I guess?) who gave me the change, and an extra quarter, to save my day. Thanks.
After arriving at Holiday Inn at 22:45, I managed to eat at restaurant at 22:55 (which was due to close in 5 minutes). I ate some crab sandwich which was a monstrous hamburger accompanied with a mountain of potatoes. This is "America".
However, I feel people here are pretty much more posh and quiet. Maybe not.
Holiday Inn@Yorkdale, 5 July 2002, 8:00@Yorkdale
Many things that I did not notice before departure are hitting me now. My camera doesn't seem to want to work, ran out of battery. I don't have a handkerchief, and I forgot to take my belt with me. (Which I later discovered to be false)
I might as well award myself with some shopping because I saved around $50 by not taking a taxi and going by bus and train.
I suspect I need to go to Downsview station by subway, and get a bus, get off at 2 streets across, and maybe get another bus. York U. is not far away.
It would be hard for me. I will eat breakfast, leave luggage here, checkout, go shopping, come back here at around 1PM, and go York U. That sounds like it.
Outside looks so beautiful I need to go out. The double-double bed room feels good and I may want to swim here, but I can swim and stay in a double-double-bed room any time; I don't come to Toronto that often.
9:30@Union Station. Burger King@Toronto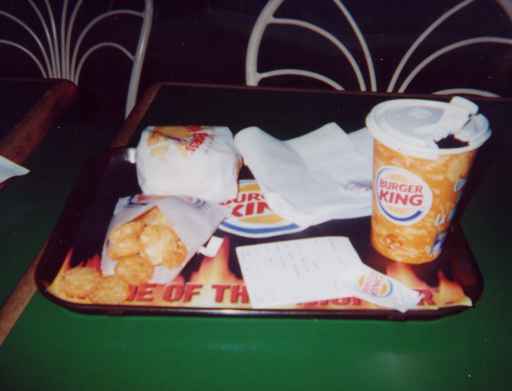 Burger King food
Morning muffin was accompanied with coffee and it was pretty impressive in size. Very large. $3.31. 25 cent coin is difficult to use. $1 + $2 + 25c + 10c + 1c - 5c = $3.31??? hard.
Yorkdale to Union Station isn't far. Yorkdale shopping centre is massive. Too big. But it wasn't open when I passed by.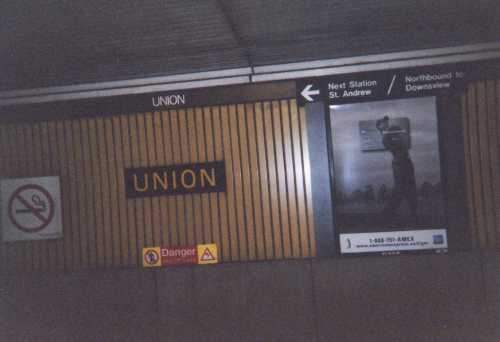 Underground Union Station
I bought an "instant camera" at a camera shop. I hope it works. Union Station Underground Mall is massive, This is getting interesting.
Everything is new. Even the sugar bag is new. It is labelled "sucre". Everything is curious. I felt I need to be disoriented from time to time, to cure my feel for being disoriented in Japan. I don't feel Japanese in Japan, but I definitely feel a real foreigner here.
5 July 2002, 11:45@Underground Union to Yorkdale
The sole act of buying something is an adventure. Apparently, people will escort you in shops. Choosing goods alone, the shopkeepers won't know the price of their own goods. I bought some stationary, and the lady was very kind and sweet.
I went to C. N. Tower, and saw around. The Lake Ontario is massive. C. N. Tower is meant to be the tallest tower in the World, and I bought some T-shirts there.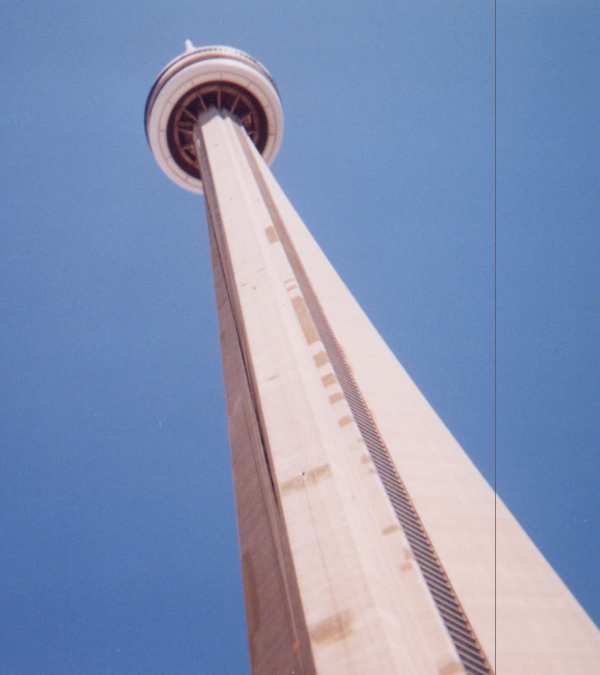 C. N. Tower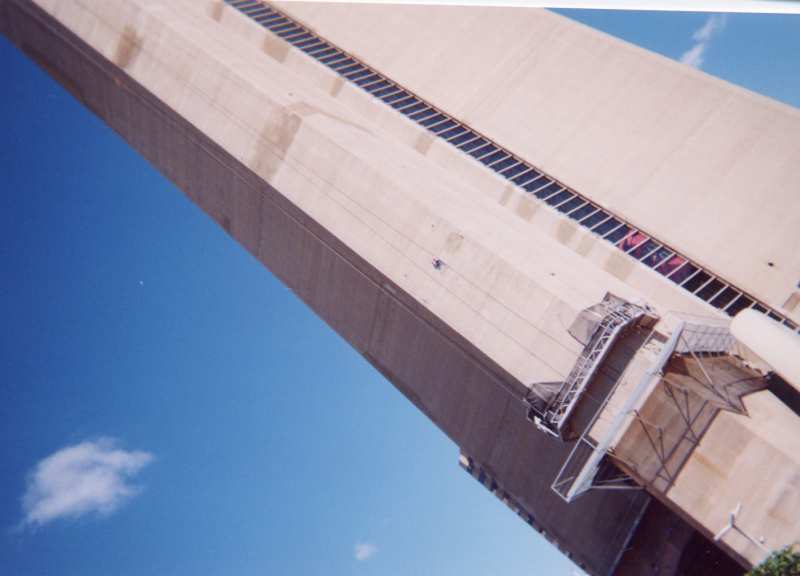 C. N. Tower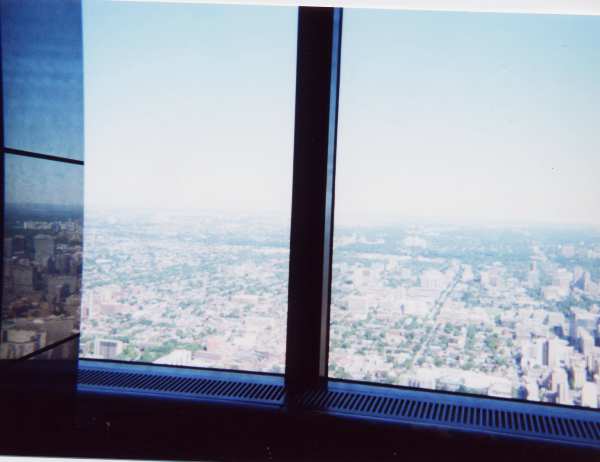 View from C. N. Tower
I walked in the "Skywalk" and went to Go Train "Union Station". I had some deja vu there, some kind of strange feeling.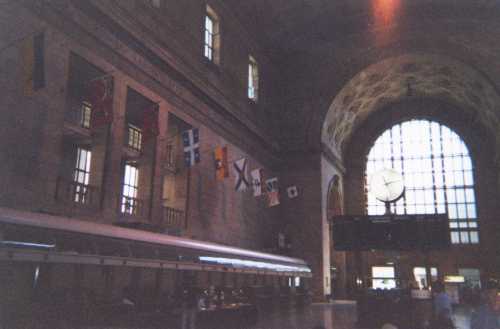 GO train Union Station
I bought 7-up, and I was surprised that a 600ml PET bottle is at $2.50 (at C. N. Tower.)
It's refreshing that the sheer feel of "shopping" itself is entertaining.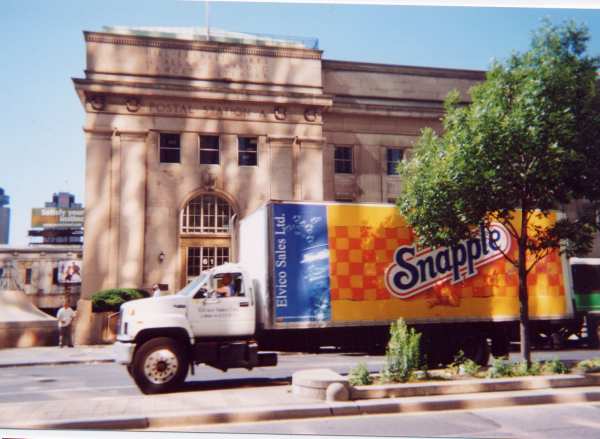 Postal near Union Station
12:30@Yorkdale shopping centre
I bought some Twister and Pepsi at Kentucky's in Yorkdale Shopping Centre. Pepsi is massive, It comes in a bucket. I think it's a pint, or maybe a litre.
The Yorkdale Shopping Centre is massive. I am starting to doubt that I'm making 15:00 at Debconf.
In my room at York U., 5 July 2002, 25:30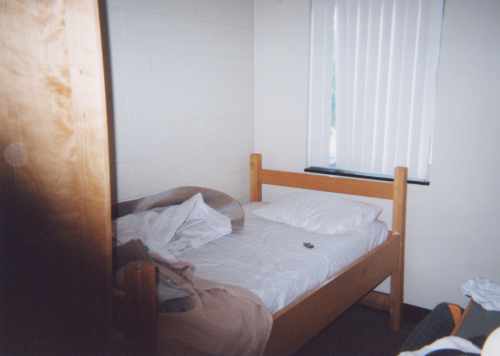 Room in York University
Jeff Licquia
Lamont Jones
Joey Hess
Colin Walters
Colin Watson
Matt Taggart
SRBaker
Phil Blundell
I've met those developers, and I know them very well. I drank some beer with them and chatted.
The night is pretty cold around here. I'm pretty much satisfied.
Debconf, day 2, in the morning. 6 July 2002, 730@York U.
Cold. Room itself is cold.
There was a developer who does not see through his eyes, and I did not know about it until yesterday.
Room is clean, and rather "unused" except for a few writings on the door with an attempt to erase it all afterwards. The bathroom is fine, but it is shared, and I have my doubts as to whether people can really use the two bathrooms. I found two bathrooms but I could not find a way to illuminate the other one with light (which I later found out).
I feel pain in my left jaw since yesterday, and this isn't good
I was pretty much lost all of yesterday, and I managed to find people at Computer Science Hall at 1455. That was very much difficult.
7 July 2002, 10:20@debconf2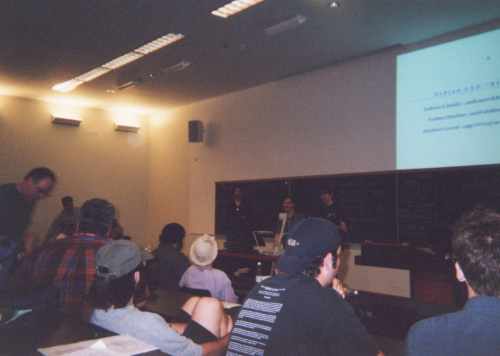 A scene from Debconf
Phil Blundell and Matt Kraai: we met up, ate dinner, drank beer, until 1am. We talked about CPUs, gcc, and other stuff.
ARM. libc6.1 on alpha is result of re-building all;. ARM should probably do this also.
Talk that the Lindows guy gave was interesting.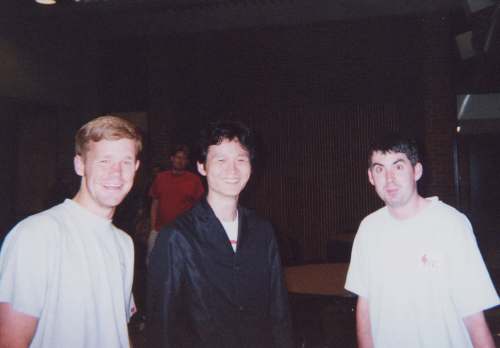 The b-f hackers at dinner
7 July 2002, 23:25
Phil B and some 19 yr old person and I went out for two pubs. I paid the last one; $20 for 3 people. Feels really cheap.
There was a draw for PC from Lindows or something, and with that event, I obtained a HDD (79GB 10000rpm HDD/SCSI) from guys from HP. Bdale offered a SCSI interface if I couldn't find something to stick the HDD in. I really should remember to contact him for that, or get some SCSI interface myself.
8 July 2002, 12:11@Pearson Airport
Many things happened. I am now used to taking the TTC transit. I have not tried to GO transit at all. I am now used to paying $2.25 and going on to anywhere in Toronto.
Last night I went out with Phil Blundell and another guy from England (somewhere from Suffield? I don't remember) and went to Toronto downtown. We visited three pubs, in which one of them denied entrance because we looked too young, and we weren't prepared with a photo ID. The first one was a typical English pub chain, and the last one was a pub "Irish Embassy". I ordered a pint of Guiness at Irish Embassy. It was so bitter and heavy there is no need to have any extra food with it.
I told some people at Debconf about where I am going to start work in April 2003.
I woke at 8AM, checked out at about 9,and took the bus to Downsview, train to Lawrence West, and then to Pearson airport terminal 2, and took the shuttle to terminal 3. It was about 10:50 then.
The ladies in Toronto gave me an impression that they are generally wrinkled and pretty much overweight. Looking at news agents I see they are occupied with magazines of fitness and computing. Some younger girls look cute sometimes, but they appear to me generally under-aged, of course. I found some ladies to be really beautiful (in my opinion), but that was very low on number.
It feels strange that I should be going to New York. I feel pretty much completed and finished. I am rather satisfied that things have (so far) went well. there are many problems, but that is okay.
The most problematic thing was the fact that no one accepts $100 bill and $50 bill. Strange country. It made me suffer though. I have $200 left, in 100 bills, at least. Also I found that I get to have so many changes. I have so many coins with me. Almost like Japan. They have the strange VAT to them, that are inconveniently charged external to piece of goods.
8 July 2002, 14:45@Detroit
Life is interesting . There was a left luggage in my seat in the plane, and we had some interaction there. I feel it strange that these people ask me "Do you know anyone in NYC" at the immigration. If I am sightseeing, does it really matter if I know anybody at the place?
I have one appointment at NYC, I wonder if I make it I have so little plans.
I've grown some beard.
I'd have to check how to get from JFK to central NYC. I was too lost at Toronto
Arriving To New York City, 8 July 2002, 20:10@Comfort Inn Manhattan
I've arrived at the front for Comfort Inn. I've gotten next to this Japanese guy and a lady in the plane, and I managed to share the cab to the hotel with them. They talked so much in Tokyo accent I felt pretty much uncomfortable. The taxi costs $35 to get to Manhattan from JFK airport. They start charging in the usual manner after going to the first target.
Little girls in the lounge are discussing about how much the guys in New York speak differently. They talked about "soda" or "pop", and how they say "orange" differently. These kids come from Ohio, apparently. I have more than 1 hour of wait to do, but maybe I don't have that much choice, but to wait here.
People in Canada were using portable phone so much. It seems like phones from England have Roaming access to phones in Canada as well. This is a kind of amazing. I've got a very uncomfortable wait here in this Comfort Inn Manhattan. I don't know what I should be doing now. I don't know what kind of rooms the guys reserved. I didn't check. This hotel really seriously seems like it is conservative about space. Manhattan lacks so much space. I doubt that they would have reserved a two-double-bed room here.
I am getting a pretty bad pain in my neck, and my bag just broke down a bit. This is unfortunate. I'll need to find a better replacement for my bag, seriously.
The City looks really congested and concentrated. Houses are there without any space between them, and every single building are tall.
There is a very large crowd arriving to the Hotel. It's so weird. I really cannot believe that this tiny hotel has 130+ rooms. The ground floor, with the reception, is so small. And the large crowd of guys and girls are carrying an insane amount of luggage. School trip? It is insane. I feel pretty much uneasy that I should find myself sitting in the middle of this "incident".
I am wondering, how would I spend this 1 hour that I suddenly seem to possess for doing nothing ? I'm getting pretty hungry right now, and I might need to get some food somewhere near by. Or whatever. This place feels pretty much residential. There aren't any shops I can shop around random food. Too bad.
I'm bored man. I've read over SelfGOL code. It seems to be pretty interesting. It taught me many things that I didn't know before. Great way to program, and not to program. It told me of details of perl syntax. I agree wholeheartedly with him that "Extreme Programming" (XP) is not extreme, and rather, a Conservative Programming.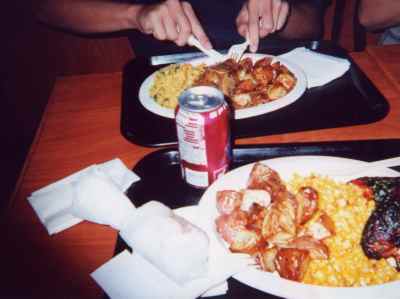 Lunch near Roosevelt Hotel
10 July 2002, 14:06@Central park
I am at Bethesda Fountain in Central Park. It is very good park, with much green fields that appear to be maintained and populated with quite a lot of people. There are zoos, and there are many other things.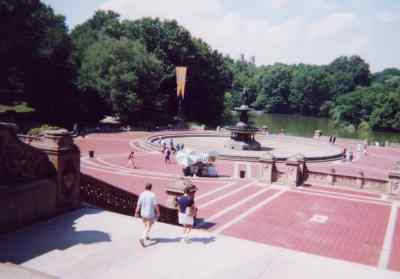 Bethesda fountain
The Sun shines very strongly. People are walking and jogging and skating. Sometimes topless, men are running. This is hot.
This place is large enough that skate-boarding on the road is not intrusive to other people.
I walked around the street from The Roosevelt hotel northward, and arrived here. There was a Disney Shop, and I bought some cuddly toys at 75% discount.

Piggy
I've realized that I really don't forget about that girl, and I keep on thinking about her and wonder what she would be pleased if I take home and give to her. I really am a stupid kid full of silly expectations and hopes. It just is so hopeless I should probably be better off without thinking about her, but I really don't know.
I've visited New York Mid-Manhattan Library. I visited St. Thomas' Church. Those little places are interesting. However, I really like respirating the mood of the city and the place. I enjoy riding public transport, and walking the streets. I like shopping everyday trivial things in shops. These are the real experience that I could feel only in the U.S.. Kinda scary tho'.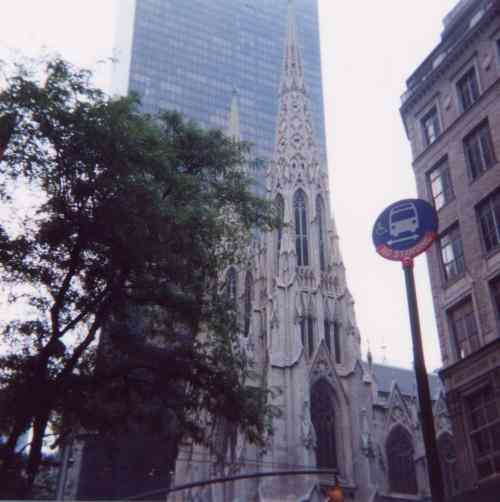 St. Thomas Church?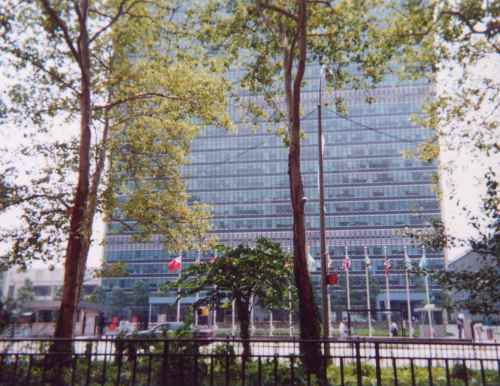 United Nations Building
15:44@Strawberry fields, Central Park
Someone is singing "IMAGINE". This is an interesting place. I wonder what people are doing. There is a stone on the ground saying "IMAGINE". Many benches there. This place is shaped like a teardrop.
Beautiful ladies, miscellaneous people. I see there are Japanese tourists around. I haven't seen the ONE LOVE message that is meant to be there. I can't find it anywhere? Inside?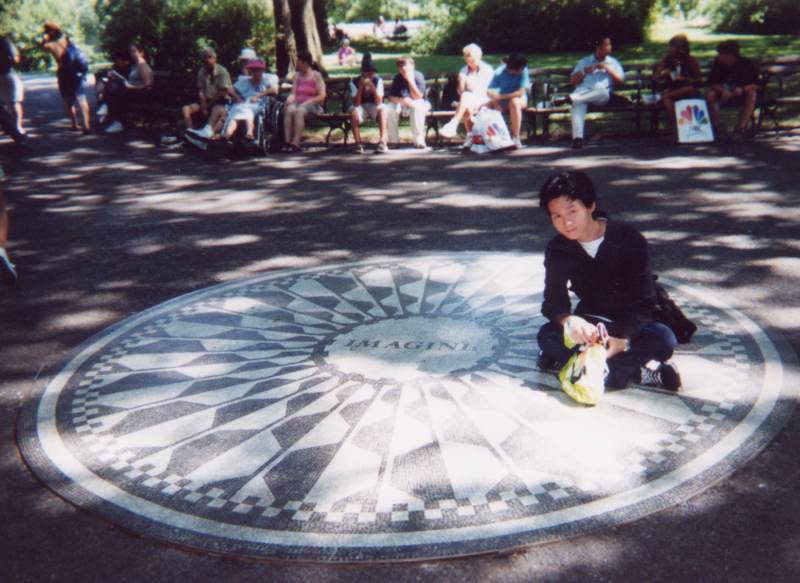 Graving at the Strawberry Fields, Central Park
18:00@New York Library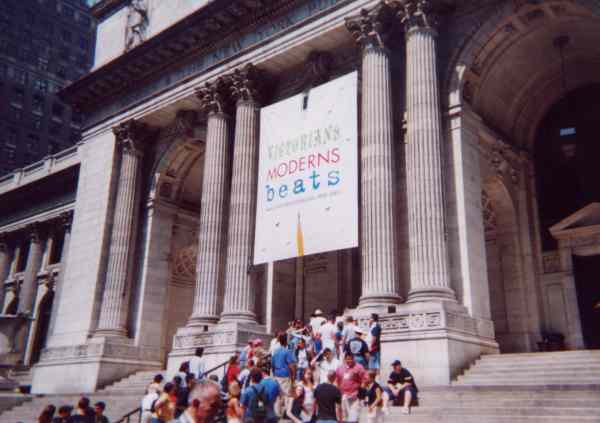 New York Public Library
The library is massive. I just visited two booths, and one had the "Declaration of Rights" and the other had many autographed scripts by poets. So many there were, I'm pretty much impressed. There were vivid love-letters, and some confessional poetry which just stroke me, and stabbed me very strongly into my heart. This is violently exciting. I have accumulated luggage over time, I need to drop off a few stuff.
12 July 2002, 14:05@H2K2
Hotel Pennsylvania is a large and old hotel. People are assembled and I know nobody around here. Funny. I am hoping to get DeCSS story, which I was so interested in and I was involved in quite a bit.
I went to Bryant Park in the morning, and did some networking. There is a wireless LAN hot-spot in this park, and one can use this free-of-charge. I read some web pages, and I was a bit disturbed by this girl's page. Her tone of voice has changed dramatically, to a formalized one, and she had some events that unnerved me.
We visited MoMA/QNS yesterday, it was strangely small. It made us skeptical that we didn't see them all. That doubt became more vivid when we talked about what we saw when we were in the place, and realized that some people saw what other guys didn't.
I'm pretty much worn out.
Last night we saw 42nd Street, the musical. It was some kind of "classic" musical with everything one could expect on a musical.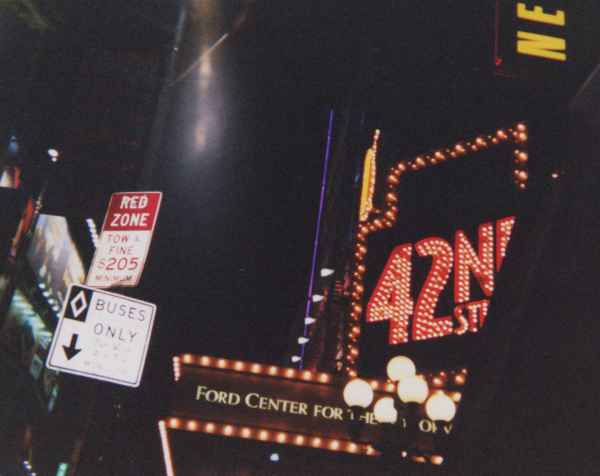 Outside the musical theatre
19:00@WTC/Ground Zero
WTC had quite a few things. Many viewers. Buildings around it were being rebuilt. Probably because of their deadly scars. There was a viewing place for the construction, and you could see the scar on the ground that the aeroplane had created. I dislike the patriotism, but it is moving. There are a few underground stations nearby closed because of the incident. Very.
The returning Day, 15 July 2002 7:30@JFK
I somehow enjoyed h2k2. I really did. No. Maybe not. It was better than some other academic conference that coincided. I somehow disliked some people there, but the knowledge they had was very interesting and seemed pretty important to know.
The final three days ended with me attending h2k2, alone, except for the second day, which I attended with Tomo. It was enjoyable to some extent. They are the real Otakus of America.
Something that impressed me was the verse from the Bible, which I didn't know it was from the Bible. It was probably quoted out of context, but it was quoted in a Film aired on the airplane, and it was a sad love story. It was called <A walk to Remember>
"Love is patient, love is kind. It does not envy, it does not boast, it is not proud. It is not rude, it is not self seeking, it is not easily angered, it keeps no record of wrongs. Love does not delight in evil but rejoices with the truth. It always protects, always trusts, always hopes, always perseveres." I Corinthians 13:4-7
Extra pictures.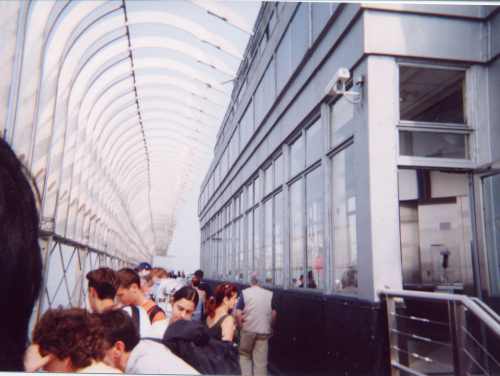 Around Empire State Building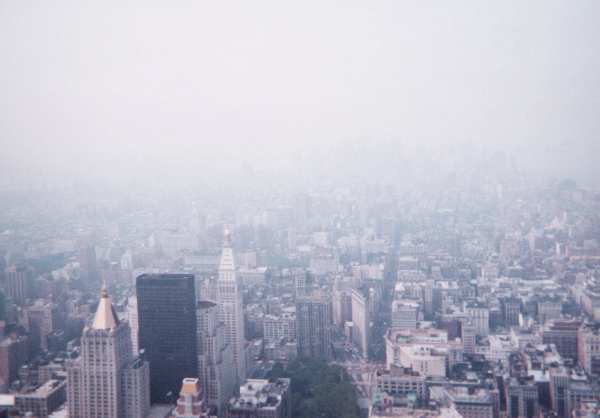 View from Empire State Building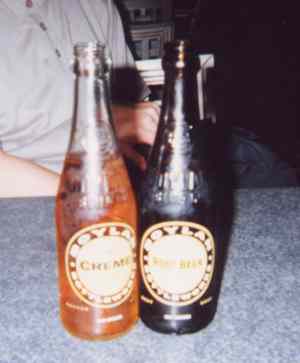 Rockefeller square, root beer and cream. Tastes awful
---
Junichi Uekawa
$Id: 200207-canadatrip.html.en,v 1.16 2002/08/08 12:15:52 dancer Exp $