binfmtc - binfmt_misc C scripting interface
Introducing the binfmt_misc C scripting interface
"I love C". "I enjoy writing in C". "I don't feel well when I have passed a day without coding a line of C". "My conversation with my wife simply doesn't flow without the C language". "I want to write everything in C, even the everyday scripting, but due to the steps required for writing make files and other things, I tend to choose interpreted languages". A good news for the C programmers suffering from these symptoms. binfmtc is a hack to allow you to use the C language for cases where script languages such as perl and shell were the languages of choice.
Also included is a "real csh" as an example, allowing you to use the C language style for executing everyday sysadmin work. Please experience the real C shell, which has a slightly different tint to the original C shell we've been used to for more than 10 years.
Screenshots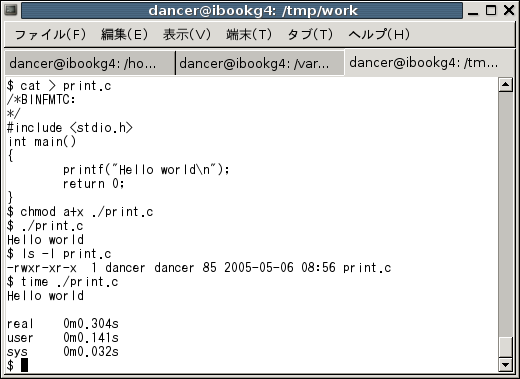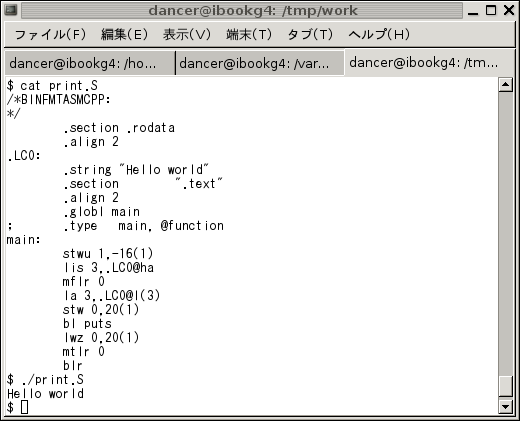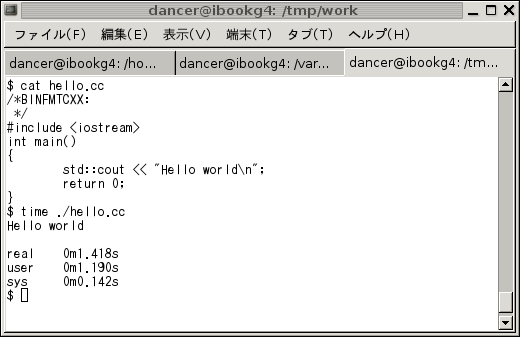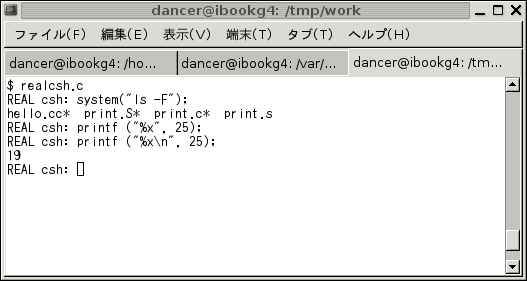 Examples of execution in C, assembly, and C++. The last entry is the one for real csh.
Usage
Simply add a magic keyword /*BINFMTC: compile-time options and add execution permission to the C-script. Every time you invoke the script, the compiler will compile and execute the program for you.
How to install
For sid add the following line to /etc/apt/sources.list and do apt-get update; apt-get install binfmtc.

deb http://www.netfort.gr.jp/~dancer/tmp/20050523 ./
    
Mechanics behind it
By registering magic through Linux binfmt_misc, binfmtc-interpreter will be invoked every time a C script is invoked. binfmtc-interpreter will parse the specified script file, and will invoke gcc with the required options, and compile to a temporary binary, and invoke the binary.
Future plans
Do you actually find it, ... useful?
gcj support 0.3 done
g77 support 0.5 done
gpc support 0.5 done
gnat support
gobjc support
chill support
mono/pnet c# support
use binfmt-support done
References
tcc -run does a similar thing to binfmtc for C.
c repl implements a better c shell than realcsh.
---
Junichi Uekawa
$Id: binfmtc.html.en,v 1.11 2006/04/16 03:03:16 dancer Exp $